See you in 2021!
With EAA AirVenture 2020 cancelled due to the COVID-19 pandemic, we missed our EAA guests! We are looking forward to seeing you again. Stay tuned for news and save the date for the next AirVenture, July 26 – August 1, 2021.
Brennand Airport is close to the action, yet far from the congestion.
Flying in for EAA AirVenture? Brennand Airport (79C) in Neenah, WI is only a 15-mile drive away from the airshow grounds. The airport is located in a quiet country setting, yet conveniently close to Oshkosh, Neenah, Menasha, Appleton, and highway 41. Brennand Airport is a located 10 nautical miles north of Wittman Regional Airport in Oshkosh (OSH).
Park your aircraft here for the show, stop for fuel, or stay and camp. Brennand Airport is a convenient alternative to the crowds at other airports in the area.
The airport welcomes ultralights, light-sport aircraft, single- and multi-engine airplanes, and helicopters. Brennand Airport has a paved, lighted 2,450′ x 30′ runway and is VFR-only with no instrument approaches. There is an "unofficial" parallel grass runway.
Easy in, easy out
Brennand Airport normally remains open throughout the week, with no curfews or closures for airshows unless indicated by NOTAM. Come and go as you please, without long lines or a multi-page NOTAM procedure. The airport is non-towered. Please see our pilot info page for more information.
Great facilities
A large building provides a welcoming space for our EAA visitors. Relax in the air conditioning or enjoy the outside patio furniture. Restrooms, showers, laundry, and kitchen facilities are available. Guests have access to a computer station and WiFi. We invite you sign our guestbook and place a pin in the map! If the building is locked, just call the phone number on the door and we can give you an access code.
Free aircraft parking & tiedown
Plenty of grass parking space is available for transient and overnight aircraft. Permanent tiedowns are installed along the west side of the airport from the fuel pump area southward. Please bring your own stakes and ropes just in case. Reservations are not required. Space is first-come, first-served. There are no fees for parking or tiedown.
Paved parking is very limited. We appreciate your cooperation in not blocking our local tenants' access to hangars and aircraft. If you need paved parking for more than a quick stop, please call ahead to see if we can accommodate you.
Looking for hangar space? Please call to inquire about availability and rental.
Free tent camping
You are welcome to pitch a tent with your plane or elsewhere in one of the grassy areas. No reservations are necessary. There is no fee for camping. Don't forget to bring your protection against Wisconsin's state bird, the mosquito!
Fuel
100LL fuel is available 24/7 from a self-serve pump operated by credit card.
Transportation
While there is no scheduled shuttle or official transportation, we can help you make plans for transportation to and from the EAA grounds. Just call ahead to let us know what you need, and someone will be glad to give you a ride if able. A courtesy car may also be available. There is an off-airport Enterprise rental car location in Neenah that may be able to pick you up. Some visitors have also had good luck with local car dealerships such as Kolosso Toyota bringing rental vehicles to the field. Uber and Lyft have started to become more common in the area. Taxi services provide area transportation as well.
Aircraft Maintenance
Licensed A&P/IA Mechanic Jim Keenan can help you with your aircraft maintenance needs. Call 920-517-4046.
For more info:
Please call airport owner and manager, Keith Mustain at (920) 376-0064 or e-mail keith.mustain@gmail.com. We are looking forward to meeting you and helping you have a wonderful visit.
Aircraft manufacturers and dealers: Brennand Airport is a great place to conduct demo flights and aircraft sales. Contact Keith today to reserve your space.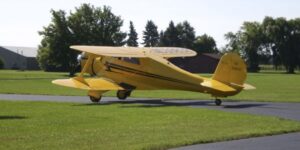 Contact airport owner Keith Mustain for more info:
(920) 376-0064
keith.mustain@gmail.com