Central Wisconsin Auto Collectors 39th Annual Benefit Car Show & Swap/Flea Market
Sunday, June 27, 2021
8:00 AM to 4:00 PM (Registration & Gates Close at Noon)
Brennand Airport, 3282 Breezewood Lane, Neenah WI 54956
All makes, models, and years welcome! The CWAC 39th Annual Car Show and Swap/Flea Market will be at a new location! Please join us at Brennand Airport, 3282 Breezewood Lane, Neenah, Wisconsin on Sunday, June 27, 2021. Registration and gates open at 8:00 AM, $10 per vehicle. Registration and gates close at noon.
Spectators are free!
Also at the Show: DJ-Sizzlin' Sonny's Rockin' Roadshow, food and beverages, 50/50 cash drawing, door prizes, airplanes on display, and more!
Swap/Flea Market Vendors: $20 per 10×20 foot space. No need to register ahead of time, just show up the morning of the show and we'll take care of you. For more vendor information, please call Matt at 920-381-4422.
15 judged Classes plus a Best of Show. 3 Trophies per class. 1 large Best of Show trophy. You must be present to receive trophies. Trophy Presentation will be around 3:00 PM. Classes subject to change.
Proceeds and donations will benefit the Oshkosh Boys & Girls Club, Winnebago County Military Veterans Museum, and Frosty's Fosters Animal Shelter.
For more show information, please contact Sue at 920-279-3350 or visit the Central Wisconsin Auto Collectors Facebook page.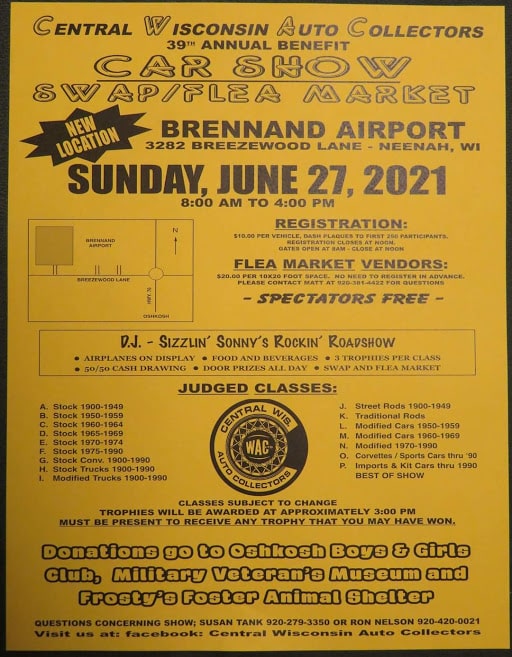 For more events at Brennand Airport, as well as listings for online-only events such as webinars and meetings, please visit our local EAA chapter's website at http://www.eaa41.org